FP 1.6 :: Zero
Draft Begins
Even pleasant dreams can be painful, and nobody escapes their family.
This is it, folks. Last chapter of the first book. It's really happening. All the craziness, all the conflict, all the mystery is boiling down to this. …well, not ALL the mystery. I'm saving some of that for the next book. But a good portion of the mystery, yes, a mysterious portion of the mystery will be revealed.
I'm hoping to release the paperback and eBook versions of Welcome to Floating Point soon after collecting your feedback to 1.6. This will include all chapters on the site, PLUS a bonus chapter 1.7b detailing the origins of Floating Point itself, PLUS author's notes about the evolution of the story concept from start to finish.
Want to see the cover? Look, and behold. Ain't it pretty? Click for the bigger version.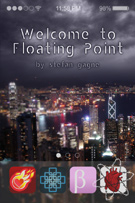 Also, next week is going to be a big week; on April 3rd, Patreon backers get a preview of the complete 1.6, AND any backer at the $2 or higher level will be getting a copy of the 1.7b bonus story gratis. My thanks for making this possible. (Backers won't get the author's notes; those are exclusive to the paperback and eBook.)
And beyond that… in the future…
…there's Revelation of Floating Point, which I'm working on right now. I'm anxious, though. This book had one cohesive theme, exploring the ills of the information age. Is there more that needs to be said there, I wonder? What other problems are we facing online that should be explored? Have I already said all that needs to be said? Is a basic sci-fi story with basic human experience themes enough after beating that other drum so very hard?
I'd love to hear your thoughts. Leave comments below. Speak up for the issues you're passionate about, consider how important theme is to your enjoyment, or just let me know what's on your mind. You can help me tremendously by doing this. Thank you.