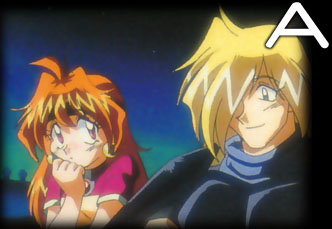 fter a lot of base runs and pop flies, stickball started to grow a bit boring. Dinner was around the corner anyway, so the 'kids' packed it up, and headed back to the house, where they were surprised to find 'mom' and 'dad' necking.
Zelgadis, not sure what to make of this, just stood at the doorway to the kitchen/dining room and.. stared. Now, granted, he had seen a number of unusual things recently. Quite a few of them were induced by magical water and involved plenty of surreal symbolism. Those things, though, he could handle; they at least had some sort of explanation he couldn't see. This didn't.
Given the level of hair mussing, they had been at it for a while now, too. And given his knowledge of Lina's behavior, the smartest, most intelligent thing he could possibly do would be to turn around and quietly sneak away before she notices him--
"Wow!" Timmy said, peeking out from behind Chi'Nai.
Sure, it was only one syllable, but it was enough to turn the situation into a nuclear explosion.
Lina jerked upright and looked with unbounded horror at the group, her face traveling straight up the list of red hues and landing firmly in Tomato. Gourry's eyes just sort of rolled around in his head, a dumb yet blissful expression on his face even as Lina dropped him like a poisonous snake.
"Z-Zel!? Chi-- Tim-- uh-- What're-- wha-- I-- this isn't-- wh-- G-- AAAAAAAAAHHH!!!!!" Lina explained, running around in a little circle before zooming out of the room at half the speed of sound.
"That's an unusual reaction," Chi'Nai said, without a hint of confusion.
"Not if you know these people," Zelgadis said, walking over to check Gourry. Maybe he wasn't unconscious, but the end results were pretty similar; blank, vapid look, and a huge idiot grin. Zel bapped his cheeks a little, gave up, and propped him against the table. "I think we'd better leave Lina be for a little while. In fact, I think getting at least a mile away would be wise. She tends to blow up anybody who embarrasses her."
"I told you emotions were more trouble than they're worth," Chi'Nai reminded.
A clamor of footsteps went along the ceiling.
"Hey, she's upstairs, isn't she?" Timmy asked.
"Probably finding the farthest point from this location," Zel said.
"Uh.. oh. She's not going to go into the attic, is she?"
Zelgadis looked at Timmy. A brief recognition of the word 'attic' hit him.. a light he saw earlier... "Attic? What's in the--"
Naturally, the next sound heard was a very impressive explosion. BOOM.
Followed by a scream; a distinctly Lina-like scream.
Dishes fell off the table, and the furniture shifted around a lot -- Zel lost his balance and fell over, while Chi'Nai adapted and kept upright.
Not one to ask things like 'What was that?' or 'Is everybody okay?', Zelgadis was on his feet and dashing upstairs at nearly the speed of thought. No sense in pretending to be in reality when you can get what you need in an instant in the world of dreams, after all. He ditched his Big Brother garb along the way and gotten the dream of his sword ready, approaching the previously locked hatchway leading up into the attic...
He stopped, and forced himself to approach the folding ladder cautiously. He peeked up without making his presence known, just incase something was large and mean and dangerous which he'd be better off killing quietly without it realizing he was around.
Nothing.
Literally nothing, not even an attic. The roof had been torn away completely, leaving behind the odd broken bit of wood and a few dustclouds stirring in the wind. And of course, a dramatic token to illustrate an important point; Lina's silly dream-apron was left behind. Without the rest of her inside it.
Zelgadis looked down to the upstairs hallway just as Timmy and Chi'Nai were rushing upstairs. "Nothing up here," he explained. "And Lina's gone too."
"Uhoh," Timmy said, a pale wash flooding his face. "I think that means he got out."
"'He?'" Zelgadis growled. "Why didn't you tell us there was a 'He' up here before?!"
"Didn't think anybody would go in the attic," Timmy said. "It's dark and scary up there, after all."
Zel considered barking again, but no. That would probably make sense to a kid. He mentally kicked himself for not exploring the house more when they got here... and for not exploring what the situation was, period.
No.. no sense in mounting frustrations. Zelgadis climbed down. Get to business.
"Let's get to the important thing first," he said. "Is Lina in the house? Probably not, but we need to make sure. Chi'nai, check the right side of the hall, Timmy, the left."
A few moments later, it was confirmed.
"She's gone," Chi'Nai stated.
"He probably took her," Timmy said quietly. "I bet he'd do that. She wasn't very good at dreaming and he was, he could do it.."
"I think it's high time I sat you down, kid, and got you to spill your guts about this place," Zel said, advancing. "About whatever it is you're vaguely talking about, about how you got here, how you got the key... and now, how we're going to find Lina."

Gourry was happy.
Gourry was happy.
Gourry was happy.
Gourry was--
*SPLASH*
wet?
He sputtered, and sat up, blinking a few times as his glazed eyes got used to the light again. "Whrrr?" he asked. "Li.. uh... guys. Hi. What's going on?"
"We're about to find out," Zelgadis said, tossing the bucket aside -- it vanished back into the dreamstuff.
Gourry looked around the kitchen, and spotted Timmy, sitting on a kitchen chair and looking a little bit guilty. Apparently, the others were looking at him and expecting him to talk.
"I just wanted to play games," Timmy apologized. "I didn't think anything bad would happen. None of the other dreamers went into the attic, so I figured..."
"What was up there?" Zelgadis interrogated.
"My grandfather," Timmy said. "He's a powerful sorcerer. He sent me with magic to the dreamplace a long time ago so I could find the key and bring it back to him. But I wasn't supposed to give it to him, so I stayed here and kept it safe. He came after me, and tried to take it away, so I trapped him in the attic... it was really hard, he was good at dreaming too."
Zelgadis nodded. "So, when Lina opened the door--"
"Lina?" Gourry asked, catching onto one of the few words he had followed.
"She must've let him out," Timmy said. "I'm sorry. I didn't think it was important to tell you about him. I was just going to play with you until you woke up and not give you the key..."
"Where's Lina?" Gourry asked Zelgadis. "What's going on here? Did I fall asleep or something?"
"More or less," Zelgadis said, with a dash of sarcasm. "Lina got kidnapped again. We--"
"WHAT?!" Gourry gaped. "We've got to rescue her!"
"I'm aware of that, Gourry. Now we just have to find out--"
Gourry fetched his Sword of Light from wherever he was keeping it in his memory, and shifted back into his armor. "Which way did they go?!"
"It's not that easy!" Timmy said. "Grandpa studied dreams really hard. He only sent me to get the key at first because he was worried he'd die if he touched it... I'm an orphan, and he always used me for his dangerous magic. I thought I could stand up to him now that I had power from here, but... but when he came himself and I had to fight him, I could barely trap him! I don't know if I can do it again, and... and..."
Gourry's people instincts took over. He forced some calm over himself, and rested a reassuring hand on Timmy's shoulder.
"Don't worry," he said, smiling. "We'll stop your grandfather. I know you're scared of him. You and Chi'Nai can stay here while your big brother and I go save mom, okay?"
"You're not really my family," Timmy said, in a small voice, on the verge of tears. He paused. "I want to go home. I don't like this place anymore."
"We'll take you back with us once we finish this," Gourry promised. "You've got my word. Zel? C'mon, let's go."
The swordsman turned, and moved right out of the kitchen, and out of the house, traveling at a fair clip. Zelgadis started a protest, but wasn't able to get it out before he had left... he cast a glance at Chi'Nai, who acknowledged with a nod that she'd stay put, and he went off.
Zelgadis pushed the rusty screen door aside, and let it clatter shut after him, jogging along to keep up with Gourry.
"Gourry, what do you think you're doing?" Zelgadis asked. "We've got no idea where this guy is. Plus, none of us are as strong as Timmy is at dreaming... magic and swords don't work here. We'll be creamed at this rate."
"We won't be creamed," Gourry said, with absolution as firm as rock.
"And what's this, telling him he won't have to help us? We could use his help. He'd be a great weapon against this guy--"
"He's scared," Gourry said. "I'm not going to make a scared little kid do something he doesn't have to do."
"Do you want to save Lina or not?"
Gourry glared at Zelgadis with unusual fire. Zel almost missed a step.
"I'll take that as a yes," Zel interpreted. "What's with you today? And what were you doing with Lina back there?"
"I think we can find this guy if we concentrate," Gourry said. "I understand that. I think. See, I can make stuff happen in this world if I think about it, and so can Timmy, right? So if we think that we find him, then we find him. I'm right, right? I NEED to be right about this and not stupid about it, it's important..."
"That's.. how it works, yes," Zel said. "I'll give it a try."
Zelgadis cleared his mind. No easy task, considering the wham-pow-bam speed of events lately, much less what those events were... clear that, clear that. Focus on the image of finding where Lina is, and going there. He put all his energy into that need to find her. Everything.
Nothing happened.
He kept it up for a minute more, before giving up. "It's no good," Zelgadis said. "Either this guy's blocking us, or I just can't get it focused enough. We'd need some really, really strong willpower to make it happ--"
Gourry closed his eyes.
The world turned around a single point in space, revolving inside out and around again...

The world was foggy and nasty. Lina felt shredded.
Her eyes opened slowly, and assessed the situation...
Oh.
She was kidnapped.
At least it was a familiar situation. Had all the usual trimmings; some way of restricting her hands so she couldn't easily cast magic, something to sit on and/or dangle from, a cackling madman and a hideout. You know where you stand with a proper kidnapping. And more importantly, Lina had no intentions of standing where she was told to stand. Might as well milk it for all it was worth...
"Hello!" she said cheerfully to her kidnapper, because that's not what a victim would say. "Nice place. Do you do your own decoration?"
She had to admit, it wasn't that interesting of a decor. A basic black void, with silvery gridlines running vertical, horizontal... forming a cube mesh that stretched in all directions. Small pulses of light raced along it in funny patterns Lina couldn't identify; she was never very good at math.
And her kidnapper... a basic looking mad sorcerer in robes and a pointy hat. Long beard, fluffy eyebrows, the works. He seemed oddly calm for a mad sorcerer, however. Almost like a sleepwalker, looking at her without looking at her.
"No, I did not," he said, in a monotone voice. "My master made this place."
"And you are...?"
"Timmy's grandfather. No doubt you have met the boy," he said. "But aside from that, I am nothing but a tool for my master to obtain the key of order, name and identity trivial. My task is all. It is a task I have been... delayed on. But no longer. I will use you to force Timmy to obey me and give me the key. I will hurt you until he gives it to me."
"Ah, now we're back in the plot," Lina realized. "So what is the key, exactly?"
"The most important thing in the world."
"One of those things, you mean?"
"No," he said. "It is the most important thing in the world."
"You realize you're making the classic villain mistake of telling the heroine everything, right?" Lina asked. This was the sort of way she relaxed when in a situation like this. "No style whatsoever, either. Now I'm going to have to escape and kill you."
"You cannot escape," he said. "I have ordered this dream strong enough to easily resist your human willpower. There is no willpower imagined that is strong enough to break into this area of the dreaming, either. Your mistress cannot overcome the Order either."
"So if you're so big and bad, why not just take the key away from Timmy instead of going through all this trouble?" Lina asked.
The old man said nothing.
"You can't, can ya?" Lina smirked. "Boy, you're just revealing everything, aren't you? As villains go, you're pretty unoriginal. So why can't you just muscle Timmy into line?"
"He is protected by Chaos, as you are," the old man said, a tiny hint of anger starting to enter his voice. "But it doesn't matter. I am strong! I will finish my master's bidding and gain a place in the Order. It has taken a long time, but time is meaningless in a purely ordered world, as he has shown me--"
BE SILENT.
A voice shunted out of the silvery gridlines, running horizontally through Lina's mind like a constant wind, sending her spinning.
YOU SPEAK TOO MUCH. DID I NOT BURN CHAOS FROM YOU, HUMAN? THE NEEDLESS NEED TO BE DRAMATIC AND ALIVE WITH RANDOM BEHAVIORS?
"Y-Yes!" the sorcerer said.
THEN BE SILENT AS YOU SHOULD BE.
Lina stayed quiet too. The temperature in the 'room' felt like it had dropped to zero. This newcomer was not the sort of bad guy she could goad, taunt or insult... she knew that on hunch, and it was a hunch she could believe.
She stayed perfectly still, feeling this strange presence study her...
SO, YOU ARE LINA INVERSE, KNIGHT OF CHAOS. It said. THE ONLY ONE WHO COULD BE A TRUE HINDRANCE TO MY PLANS. I SEE NO REASON TO REMAIN CONCERNED. YOU HAVE NO PARTS TO MY ALTAR OF ORDER, WHEREAS YOUR SISTERS ALREADY HAVE RECOVERED THREE.
"Sisters?" Lina asked, unable to resist asking. But the being ignored her question.
NO. YOUR "LORD OF NIGHTMARES" HAS NOT PICKED WELL, HER CHAOS AGAIN LEADING TO HER INEVITABLE DOWNFALL TO ORDER. PERHAPS NOW SHE'LL FINALLY LEARN THIS LESSON. AS WILL YOU.
"She claims she will escape," the old sorcerer stated, quietly.
SHE WILL NOT. ORDER CRUSHES CHAOS. THERE IS NO CHAOS STRONG ENOUGH TO REACH THIS POCKET I HAVE MADE.

...and hit a wall, a wall of very hard matter, bouncing back to where they came from.
Zel and Gourry were tossed aside, landing on the soft grass of Timmy's lawn. Zel's breathing resumed, once he forced himself into it.
"What happened?" Zelgadis asked. "It felt like it was working, and..."
Gourry was already on his feet, concentrating furiously. "Something stopped me!" he seethed. "I felt it..."
"Felt what?"
But Gourry's mind was already racing to find Lina, pouring every ounce of emotion he could into it. He needed to find her. For so many reasons, even ones he still didn't understand or know a lot about, tangled up into one big strange ball he couldn't sort out -- but gave up on trying to sort it out, and just pushed on anyway. Accepting that he might never completely figure it all out and just going with it.
In one burst of feeling, of chaotically confused but determined need and wanting, he PUSHED--
And the two of them slammed through a wall of lines, shattering some kind of grid as they rolled to a halt on the non-floor of a void.
Everybody was surprised to see them.
"How is this possible?!" Timmy's grandfather asked, shocked.
Gourry quickly imagined Lina free from.. whatever she was trapped by, some unseen and unacknowledged thought. Lina dropped to the floor as well, ready to move--
The sorcerer threw up his hands, warping gravity around each of his enemies, spinning them about. "It doesn't matter! I will destroy you all--"
Gourry had his sword out, confronting the sorcerer. "Let Lina go!"
"Ah... Gourry?" Lina said, tapping his shoulder. "I'm let-gone already. And that guy's not important."
"He's not?" Gourry asked. Whatever drive he was wrapped in before started to crumble in front of his usual confusion. "Uh.. then what now?"
YOU DIE.
As if on cue, the wind rolled through the area again, blasted from the being that shared this same geometric space. The sorcerer was unfortunately (or fortunately) blasted far out of sight, fading from existence as he shot into the distance -- Zelgadis was knocked aside, but grabbed hold of one of the grid lines to keep from being blown away. Gourry grabbed onto Lina, who was also hanging on for dear life.
"Hey! Don't grab me like that!!" Lina instinctively yelled, kicking at Gourry.
THIS IS TOO MUCH RANDOMNESS. THERE ARE TOO MANY UNCONTROLLED ELEMENTS. I WILL STOP IT HERE. THERE IS NO NEED TO OPPOSE YOU AT THE END OF EVERYTHING IF I DESTROY YOU NOW, KNIGHT OF CHAOS.
"Who the hell is that guy!?" Zelgadis shouted, over the roaring gale. "Lina, do something!"
"Like what?!" Lina shouted back.
"You're the Knight of the Lord of Nightmares, not me! Think of something!"
The first idea that popped into her head was a stupid one, but Lina did it anyway.
Her golden wings unfolded, at her mental summons. The brilliant hue and shine of them was something to behold, at least when you weren't about to be blown into oblivion and thus concentrating on other things.
"It's a start," Lina said. "Now then, maybe if...... ah.. where'd the wind go?"
Zelgadis looked up, noticing he was no longer being tugged around. He got to his feet, feeling only a gentle breeze...
"You're blocking it with those wings... I think..." he said, unbelieving.
A TRIVIAL EFFORT, the voice said. I WILL STOP IT NOW.
Very little happened.
"Well?" Lina asked.
YOU WILL DIE.
Zelgadis fidgeted a little, not seeing any sudden death coming.
"Oh, I get it," Lina said. "That guy said I was protected by chaos. I guess I just had to summon that protection. Man, for a large, mysterious force with a cool voice, you're pretty impotent!"
...IT DOES NOT MATTER, the voice said. ONE METHOD IS AS GOOD AS ANOTHER. YOUR SISTERS WILL DEAL WITH YOU. I HAVE ALREADY SET THEM IN MOTION. NONE OF IT MATTERS. I WILL WIN IN THE END.
Even the tiny breeze died, as the thing went away, to... wherever it went.
"What now?" Zelgadis asked.
"What now? Oh, that's easy. We go back, get the stupid key from Timmy, and get out of here," Lina said.
"And that... thing?"
"It's gone, isn't it? Problem solved."
"We don't even know what it was!!"
"No, but I'm sure someone will tell us eventually," Lina said, unconcerned. "Relax, Zel! You'd think you'd have learned this stuff from all the other quests we've been on. Now, let's... ah, where's Gourry?"
"You're standing over him."
Lina blinked, and stepped back... uncovering Gourry, who had a goofy smile and a little bit of blood coming out of his nose. Quite unconscious.
"What...?"
"I think he could see right up your dress," Zelgadis coughed.
"Ah... I see," Lina said, flushing up to a tomato level hue again.

Back at the ranch, Timmy fidgeted.
"He's going to hurt them," he said, shaking with nervousness. "He's going to be very bad to them. I thought I stopped grandpa... why couldn't I, Chi'Nai-oneesan?"
"You weren't smart enough to realize the danger," Chi'Nai said factually.
Which only sent Timmy into a crying jag.
A hint of nervousness crept through Chi'Nai's mind. She was trying to discuss the matter rationally with Timmy, but he was being very irrational... very emotional. She had no honest idea what to do about it, but wanted to be able to do something... she didn't particularly like making the young boy cry. But it wasn't something she understood.
Would father have understood? He hung onto his emotions like a dying man to life, but clearly they only made him erratic and random. Those were bad things. What would he do for this boy? Probably offer him a sweet and tell a joke. That wouldn't work. Would it? Chi'Nai didn't have any sweets and didn't know any jokes.
Zelgadis would probably know what to do about this, she thought. He always seemed to know what to do. She liked that about him. Chi'Nai thought about it more, as she drifted off into sleep, sleep inside the world of dreams.
Timmy looked up as Chi'Nai slowly sank to the floor, dozing. He glanced around worriedly.
"Shhh," a voice said in his ear. "It's Okay. I Just Let Her Sleep."
"You?" Timmy asked.
The little girl made herself visible to him, a young girl with golden curls. She wasn't dressed very neatly, with mismatching socks and everything.
"You Did A Very Good Job," she said, smiling softly to him. "Thanks. I Knew You Would Protect The Key From Those Who Could Hurt Me."
"But I couldn't! He got out! He--"
"Your Friends Stopped Him," the girl said. "You Helped Them. You Should Go Home Now, Back To Your World. You Can Trust Them With The Key Now."
"...it's over?" Timmy asked. "Grandpa, and..."
"It's Over," she said. "I'm Sorry For The Trouble. I Have To Return Home Now Too. Thank You, Timmy."
Timmy smiled at her, relieved, and thankful for the praise. He slumped a little, no longer so stressed.
The girl vanished just as Chi'Nai woke up. Chi'Nai didn't seemed the least bit concerned, as if she hadn't noticed going to bed in the first place.

After returning 'home', Lina and company got their gear together, ready to leave the world of dreams. Lina, for one, was quite pleased to be back in her usual adventuring duds and NOT in some silly dress...
She hadn't mentioned the little incident to Gourry. In fact, they hadn't talked much about anything like.. that. Far too busy questing. Maybe later, once they could settle down..
"So!" Lina said, concentrating on the present. "On we go. Timmy, got the key?"
"Right here!" Timmy said, smiling big.
"Zel, Gourry, your swords and goodies?"
"All packed," Zelgadis stated.
"Chi'Nai, do you have the sixteen elephants and packet of dental floss?"
"Y... what?"
"Just being silly," Lina said, with a hint of whimsy. "I think this quest is going well! Now, let's get back to Sailoon and check in with the group before finding the next part of the big whatsimajigger..."
Lina chanted the Giga's Dream spell, opening a glowing blue gateway back to the waking world.
"All together, now!" she said, stepping through the gateway and into a smoking crater.
Gourry landed on top of her. The others were thoughtful enough to look before they leapt, and simply climbed down from the gateway, which was inexplicably hanging over the edge of a giant hole in the ground.
"Off!" Lina ordered, pushing Gourry aside. "What happened? I cast the spell right..."
When she stood up, she realized what was going on.
Sailoon City was missing, presumed destroyed. For several miles around, instead of seeing a bustling metropolis with thousands and thousands of citizens and the shining walls of Sailoon Palace, all she saw was a giant crater of scorched earth, blackened and burned. Oddly, the trees around the strike zone were pretty unharmed, and the sky was a cheerful blue with puffy white clouds.
"......." Lina said.
"I don't understand. Isn't there supposed to be a city here?" Chi'Nai asked, stating the obvious.


Story copyright 1998 Stefan Gagne, characters copyright H. Kanzaka / R. Araizumi.
A Spoof Chase Production.