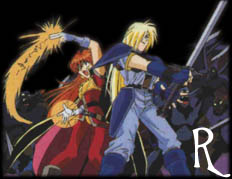 oaring into the open sky, the great Demon Lord of the Mazoku Or So He Thought Of Himself As, the Terrible Ozek unfurled his bat wings, stretching.
"I RETURN!" he declared. "MAY THE HUMANS WEEP IN DESP--"
Someone whistled.
Ozek looked down at the strange white-haired little girl. "WHAT DO YOU WANT, MORTAL?"
Lina Inverse pointed to what was left of the Goon. He still looked surprised, and was quite beside himself, on a very literal level. "That's my sacrifice to you, and the rules say I get three wishes within your power in bargain. Correct?"
"THAT IS THE POWER OF MY SUMMONING, YES. YOU SEEK IMMORTALITY? OMNIPOTENCE? MONEY?"
"I know you and I know you aren't all that hot," Lina said. "You have no money because Mazoku don't care for it, and the best you could do to make me powerful and long-living is to make ME a Mazoku, which I don't want. You're all hot air and stupidity and blunt strength."
Ozek's wings fluttered. "I HAVE SKINNED MEN FOR LESS, FOOLISH CHILD. I HAVE DOMINATED AND EVENTUALLY DESTROYED OTHERS LIKE Y--"
"Shut up," Lina said. "Wish number one. I want you to.. to apologize."
This wasn't a word Ozek was used to hearing, so he had to have it defined for him. Upon figuring it out, he went into a rage, knocking down several walls of the temple.
"YOU WISH THAT OF ME?! NOT ONLY IS IT INSULTING, I CANNOT SEE WHAT I HAVE DONE THAT YOU WOULD DESIRE SUCH HUMILIATION FOR!!"
"Not here, not here. Well, here. But not HERE," Lina said. "It's my turn and you're going to apologize and you're going to do it NOW! If you don't apologize I'll revoke the sacrifice and you go back to sleep until the next Mazoku war. Got it?"
Ozek snorted, and exhaled a light blue flame. "FOR WHATEVER REASON, I AM SORRY. IS THAT ENOUGH? I--"
"Wish TWO!" Lina said, holding up two fingers. She paused, trying to work the words out in her head, having waited for this moment but still woefully unprepared.. "You are.. you're never to... if you hurt a girl my age like you know you like to do ever again you'll explode!"
"I DON'T DO ABSURD PROPHECY. JUST WISHES," Ozek scoffed. "GIFTS AND SO ON. HURRY UP. I AM READY TO REND THIS COUNTRY ASUNDER AND SUBJUGATE IT!"
"You.. you will NOT sub... ah. Ah HA!" Lina said, grinning. "Wish number two! You will go right back to sleep after accomplishing wish number three and not bug anyone! Got it?!"
Ozek bent down, glaring with glowing eyes at Lina. "YOU CANNOT ASK THAT OF ME. I AM OZEK THE MIGHTY. I--"
"You're bound to the contract," Lina said, pointing to the blood-soaked altar. "You're exiting stage left after the dance. It's in your power to do so, so you have to."
The Mazoku shook with barely restrained rage. "VERY WELL! TELL ME THE THIRD TASK SO I MAY GET THIS FARCE OVER WITH."
Lina took a deep breath. She got most of what she came for; now for the last stroke to continue to set things right in this twisted world...
"A blonde swordsman and a tall sorceress wearing a bikini will be here shortly," Lina explained. "Kill them."
Ozek roared into the sky, gleeful. "THIS I CAN DO! O ARROGANT HUMANITY! OZEK IS--"
Lina coughed.
"--UNLEASHED FOR AN HOUR OR SO," the demon ended with, ruining his boast. "AT LEAST I WILL GET SOME EXERCISE. BUT BEWARED, LITTLE GIRL, WHEN THE NEXT MAZOKU UPRISING COMES, I WILL MAKE SURE YOU SUFFER HORRIBLY FOR THIS INSOLENCE."
"Been there," Lina said, turning to go. "Done that."


Lina wished the cloak she had put over this ridiculous outfit Naga gave her wasn't so drafty. Normally, at the site of a demon's uprising and horrific resurrection, peasants would run screaming to safety, so nobody would be around to see her in this embarrassing outfit.
But these weren't peasants, they were Evilanians.
Instead, a huge mob had gathered at the ruined temple, hands raised in tribute to the very typical looking monster that towered fifty feet over them.
"We worship you, O Ozek!" they chanted almost in unison. "Lead us towards victory over the accursed forces of the weak!"
"Boy, these guys must practice a lot," Gourry commented, stopping on a ridge overlooking the scene. "They've got the cartography down pat!"
"Choreography, Gourry," Lina corrected.
"Funny, I don't see any mapmakers there--"
Ozek looked down in confusion at the group, but caught on quickly. He let out a bellowing laugh, and swept his arms dramatically, wings a-flutter, but in a batlike way, not a chicken-like way or a butterfly-like way. "MORTAL SWINE! IT IS TIME TO JOIN THE FORCES OF OZEK! ARE YOU READY!"
The stupid ones all cheered, and exchanged high fives, before Ozek stepped on them. Squish.
"Eww," Lina said. "Mazoku always leave a mess around."
Gourry peered across the ways, at the damp footprint. "Umm.. Lina, they're still moving. But they look a bit different..."
"Are they all grey and splotchy and shuffling around with their arms held out?" Lina hazarded.
"No, no, they... oh, wait... yeah, that's definitely a shuffle. More like a strut and a shuffle, but definitely a bit shuffleish. Why do you ask?"
"Zombies," Lina said, drawing her sword. "Very resistant to magic, but if you hack them apart enough times, not a problem. Minor monster. Ready?"
Gourry watched, as Ozek pointed them out, and the horde of zombies charged them at a light trot. He drew the Sword of Light, slowly. "Don't zombie turn you into the undead if they bite you?"
"No, that's werewolves."
"I thought werewolves had to transfer some of their blood into you to turn you."
"No, that's vampires," Lina explained.
"Okay... so..." Gourry said. "You've got vampires, who need to transfuse blood to make you a vampire, and... werewolves just have to bite you, so... what do zombies do?"
Lina started to get nervous. "They eat your brains, which these ones are gonna do in a second... they're getting closer, so, you know, you wanna get in there and start cutting them apart already??"
"Now, hold on," Gourry said, trying to think. "So, if zombies eat your brains, what do werewolves eat?"
"They don't eat ANYTHING! They just bite you! Now fight!!"
"They have to eat something. Otherwise they'd starve, or something, right? I mean, I do know some things. Vampires eat blood, I know that, so..."
"GOURRYBEHINDYOU!!" Lina wailed, waving her arms.
Gourry stuck his sword, point first, into the air behind him. A zombie groaned and slumped to the side. "Do werewolves eat fur or something?"
"Yes! They eat fur! You're right! Now let's fight these guys!!" Lina begged, spinning to lop off an undead head.
Nodding in satisfaction, Gourry turned to face the monsters. "Okay. Just trying to make sure I knew what we were dealing with."


Naga knew something was up when the roof fell on her head.
That's always a good first sign. So, she grabbed the chair Lily was tied to, and hauled her out of the wreckage of the building, and noticed this great big evil bastard squatting in a temple on the edge of town.
At last! A chance to prove her might in the field of combat! Given she hadn't had a really good successful brawl in awhile (Noh Wheir didn't count, thanks to the annoying little woman in the chair) Naga was more than ready to swing into battle.
Using Raywing, she scouted over the killing fields. The monster was still in the temple, laughing its head off, while Lina and Gourry were ripping through a horde of zombies like a weed whacker. (An obscure invention by Dayvid Devince that he used to mow lawns at 25 coppers an acre, and was able to purchase his first alchemy set in a matter of days with, but Naga wasn't aware of that.)
Touching down just outside the blood-drenched zombie slashfest blast-o-rama, Naga deposited the snoozing Lily and her chair, and addressed Lina.
"Good work, Lina!" she called. "Keep it up! I'll go challenge the leader while you and my other sidekick deal with these minions! OOHHHOOHOOOHHOOHHOHOOHOHOHOOO!!!"
"Naga?!" Lina gaped. She span, slashing through the chest of another zombie that was sniffing at her head. "Don't just stand there, help us out!! For the love of L-sama, help us!"
"Yes, I will! Excuse me," she excused, and flew off towards the beast. She slid to a halt in midair, so she could look the thing right in the eyes.
Ozek turned to her. "WHAT DO YOU WANT, PUNY WEAKLING?"
"OOOHOHOHOHOHOOHO!!!" Naga laughed. "Puny? We humans have progressed by leaps and bounds since your kind last saw this world! For now, you face the terrible and powerful NAGA, the White Serpent! Prepare yourself!"
"I AM OZEK, LORD OF THE DEAD, DUKE OF BLOOD!" Ozek announced, beating on his chest. "I AM BOUND TO KILL YOU, TALL ONE WEARING A BIKINI! FROM THE BLOOD SACRIFICE OF A LOUD MOUTHED MAN FROM TESTABOURNE, MY BLACK HEART BEATS WITH DARK INTENT! FOR LOW IS THE SWAY THAT REAPS LIKE A HARVEST IN MINE SIGHT!"
"Perhaps you are, but hundreds have fallen at my feet!" Naga taunted. "I have cut down all enemies that appear before me, like a mighty whirlwind of righteousness!"
"OH YEAH?" Ozek retorted. "MY NAME ECHOES ACROSS THE LAND LIKE A DARK OMEN! BEAT THAT!"
"OOHOHOO! All have heard of Naga, and they run, quivering in my wake!" Naga said.
"YEAH, WELL, I HAVE..."
The battle was on!


Lina kicked a rolling zombie head away, gritting her teeth. This wasn't going well. First of all, she was surrounded by zombies; but second of all, the drugs in her blood were making the zombies WORSE, bigger, nastier, more of them. She had taken to just slashing at everything that didn't look remotely like Gourry to get by. And naturally, Naga had stormed off for some stupid reason...
"Gourry?" Lina asked. "Remind me to hurt Naga. Very badly."
Gourry cut one zombie in half before splitting a second down the middle and removing the arms of a third before driving his sword into the heart of another in the span of two seconds. "Can't talk, busy fighting," he replied automatically, not having enough brain overhead to think of anything else.
Just outside the angry zombie stomping grounds, Lily started to awaken, finding herself lying sideways on the ground tied to a chair staring at the walking dead. This didn't help her disposition. "AIEEE!!"
"Gourry! Am I still hallucinating or is some girl screaming?"
"Yes!" Gourry replied, beating a zombie with its own leg.
Lina fought her way to the edge of the battle, and saw Lily. Figuring it couldn't hurt, even if she might not exist, she spoke. "Hey! I know you were hired to stop us, but can you fight? We need a hand here!"
"I... I..." Lily said, her voice locked.
"I'll take that as a yes too," Lina said, sparing a swordstroke to slice the ropes on the chair. Lily scrabbled to her feet, and watched the teeming horde, swallowing hard.
Technically, she was supposed to be making life worse for these people. She had a job to do. But she also swore to protect life, and.. the two conflicted.
But a white sorceress would never help the forces of darkness, at least, not ones as obvious as the walking dead, and Lily eventually hit a decision."
The wind circled around Lily, a gentle breeze, but stronger than the strongest hurricane. Her body glowed with light as she concentrated on the spell, her best and most frequently used spell...
"As tall as the tallest pillar...
As bright as the lightest sun...
Final level of power, final spell of might,
Shining brightness that brings all life,
Let the darkness be repaired in this place...
ULTRA RESTORATION!"
A bright flash filled the air, and a silent explosion.
Lina blinked several times to clear it, and when she did, she saw the zombies.. heal. Body parts came back together or regenerated, skin went from grey to pale pink, the normal complexion for an Evilanian.. and then the mob of living dead had become a mob of the living, who were very confused. The group scattered quickly, trying to leave the scene as fast as possible.
Gourry turned to face the enemy, found he had nobody to face, and spent a few moments adjusting. All the minor nicks and wounds he had received were missing. "Huh?"
"You.. you CURED zombiehood?" Lina asked, shocked. Her eyes focused more easily, the chemical stew that was threatening to overwhelm her gone from her system. "Even dead.. er zombies?? And my drug... and.. whoa! That's impossible! White magic isn't strong enough to..."
Lily looked sheepish.
"We'll deal with that later," Lina said. "Hold that thought. I need to kick the monster's ass now."
Lina turned, to face the great beast Ozek, who seemed to be busy locked in heavy verbal assault with Naga. More importantly, he wasn't moving around. Perfect. She started the spell.
"Darkness from twilight,
Crimson from blood that flows...
Buried in the flow of time...
In thy great name, I pledge... ah, to hell with it--
DRAGON SLAAAVE!!!!"
The red streams of power gathered through Lina's hands, forking and blasting across the sky...


"Perhaps," Naga said, "But I myself am personally responsible for the terror and nightmares of an entire village, having unleashed a horde of myself upon them! OOHOOHHOOO!"
Ozek was getting very frustrated. "VERY WELL! FOUL HUMAN WHO SEEMS TO THINK SHE CAN OUT-EVIL ME, BEWARE! FOR NOW, YOU FACE YOUR *UTTER DESTRUCTION!!* I--"
Then the Dragon Slave hit him.
Every molecule in Ozek's body simultaneously exploded and imploded at once, fracturing apart in the magical inferno of destructive power. A huge mushrooming orange cloud formed where the temple was, knocking Naga a distance away; she slid to a halt in the air, and watched him burn, the Mazoku lord becoming so much blue-green ash as the spell's effects drifted away in the breeze.
"Udder destruction, you say?" Naga smiled. "How appropriate. You fight like a cow."
ba dum bum ching.
Pleased with herself, she landed by the group.
"Everybody can relax!" Naga declared. "I have slain the beast with a single stroke of my razor-sharp wit!"
Lina fell over.
Lily stepped over. "Ano.. excuse me.. but I have to go now. I need to find him..."
"Oh, him," Naga said. "I believe Ozek mentioned he was sacrificed messily. Tough luck, dear."
The white sorceress turned white. "Sac.. sacrificed?" She looked at the crater, where the temple had been neatly atomized. No chance of bringing back someone who was that dead, even with the Ultra Restoration...
"I.. I failed..." Lily said, in quiet horror.
"Don't worry! You have a new job now," Naga said. "Accompany me, Naga the White Serpent, on my adventures! OOHOOHOHOO!"
Lily fainted.
Gourry poked her with a stick.
Lina sighed. "This is a great turn of events. Does she HAVE to come with us, Naga?"
"I won't hear otherwise," Naga said. "Thus Naga has spoken!"
"Taking stock..." Lina said, surveying the landscape, swaying gently with exhaustion. "The whatever that was is gone, the goon guy who was bugging us went with him, we're all healed including my dinner accident and we know where to find the Great Library. Not a bad day's work. Now, if you'll excuse me, I'm going to take a well deserved nap."
Naga and Gourry nodded.
Lina yawned, and went to sleep on the spot.
When she woke up the next morning, she was in the coach, trundling off towards the Great Library, and whatever was going to happen next.


Lina Inversed slept under a bush, keeping a good hold on her marble-thrower in case anybody who was hunting her tried to attack her or grab her. She dreamed dead dreams, a thankful skill she had developed over time, giving her a flat night's rest.
But somehow, she did have one dream out of the blank slate that the rest of the night occupied...
The figure smiled.
"You again," Lina said, toes curled, ready to attack if she had to. "What do you want? What now?"
"Just checking up on things," he said. "Making progress?"
"It's at the Great Library, and I found out where that is," Lina said. "I'll be there and I'll have the mirror lores before she does. You had better not be lying about this..."
"Lina, Lina! Trust me," the man said, smiling wide. "Perhaps your usual magic was burned out, but wholly new spells will work fine. You'll be able to find the revenge you seek in the mirror lores. Be strong. I'll be guiding you and helping you."
"I don't trust you. I don't know who you are or what you are," Lina said. "I'll kill you if you lie to me or hurt me. Don't try it. DON'T!"
The man gave a sweeping bow, and vanished from her dreams. Lina slept.




Story copyright 1998 Stefan Gagne, characters copyright H. Kanzaka / R. Araizumi.

A Spoof Chase Production.