This May, Stefan Gagne, family and near family threw a lot of suitcases into the Smurfmobile (our cheery blue minivan) and drove 18 hours down to sunny Florida. The trip down and back really wasn't fun, but inbetween was a blast and I got some great photos.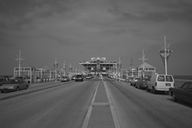 This was a really weird, Jetsonsesque structure known as 'The Pier'. It was essentually a pyramid turned upside down. Inside were a variety of ways to waste your money, such as the magnetic silver spin art thingy I bought for fifteen bucks.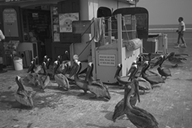 Just a bunch of birds hanging out outside The Pier. We got three photos of birds, two of which we put in this compilation. They were very birdlike in nature.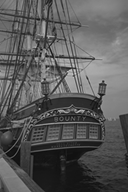 Outside The Pier was this boat. Wow. I think we took a few too many photos here, folks. Oh well.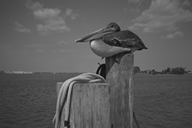 A bird.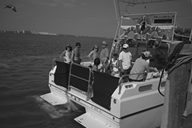 Jenny and Alex went off scuba diving one day on a boat, and came back with a lot of seashells. This photo was taken as they returned. Jen's in pink and Alex has the cute little straw hat.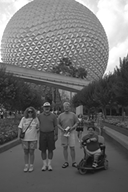 That's the family, outside the big golf ball at Epcot. Left to right, it's Mom, Dad, Alex, Jenny and me. This is the only view I could find of Epcot that didn't have a corporate logo in it.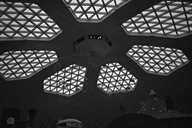 This is a mobile over the 'Body of Life' or 'Life of Body' or some other innane title for an Epcot domed attraction. Jenny liked the mobile and asked to get a photo. Note the 'Met Life' blimp at the bottom and previous comment. It does look a little like Deep Space Nine, in a neo-Cardassian manner.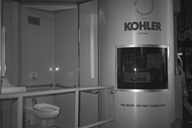 No kidding. 'The Bathroom of the Future'. Self cleaning. They had this thing in PUBLIC, folks. You could walk up and use it if you didn't mind the lack of a door.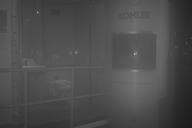 Actually, this was taken right before the last shot. We forgot to defog the lens. Or maybe we were in London. You pick.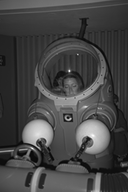 At 'The Living Seas' in Epcot, there was this big orange dive suit you could get into. Never one to pass up photographing machinery, we got a photo of Jenny playing with it. Note corporate logo on chest.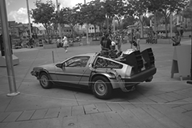 Yes, folks, it's a Delorean. We got this shot at Universal studios just before breaking Dad's spine on the 'Back to the Future Ride,' one of the most entertaining uses of IMAX and dry ice to date.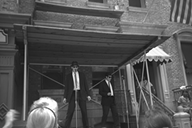 These Blues Brothers impersonators were quite good, actually. Probably the best Themed Attraction Park Show we've seen so far. Probably the only Themed Attraction Park Show we've seen so far.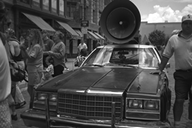 But of course; the Blues Brothers' car. Always a classic. I have the movie on tape, it's quite nice.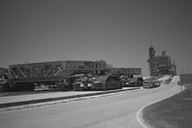 This is the crawler that carries the Space Shuttle out to its launch pad. No kidding about the 1 MPH speed.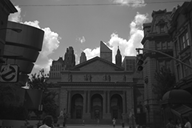 This is a two-dimensional city, actually, used in the Ghostbusters set to make the city look more, well, less fake. It's quite impressive from a distance, and close up it's just really clever.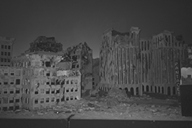 We went on the 'Earthquake' ride at Universal twice JUST so I could get this shot. I think nothing caps off a roll of film better than a major metropolitan city in flames. This is the real miniature used in the movie 'Earthquake'. San Francisco, I believe.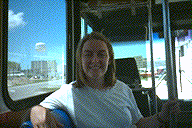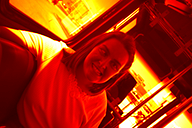 Jenny wanted me to take these two views of her. I think they make a nice closing to this photo album.
Any questions?

"Yeah, I got a question..."
Namely?
"I don't buy any of this crap. What did you REALLY do on vacation?"
"Good question..."

Click here to find out.
---

Back to The Silly Zone