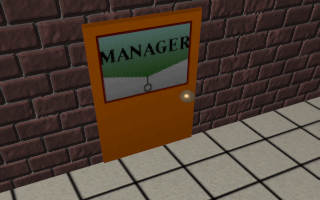 our LONG lasting, HARD-working STAFF. Your cheerful staff is more than happy to profile themselves here on your screen and make themselves look all big and important! Click on the name to download a cute l'il piccy of the person!

THE REAL STAFF


TWOFLOWER --> Stefan Gagne, twoflowr@wam.umd.edu

Twoflower is an undergraduate tourist learning the joy of higher education- induced stress and mayhem. He's currently majoring in computer science and ice fishing. He enjoys long walks on the pavement and eating so many 'Cooler Ranch' Doritos that he becomes violently sick.
LIKES : Anime, 3-D rendering, Doritos
DISLIKES : Work
FAVORITE COLOR : Purple


JENNY --> Jenny Gagne, jengagne@glue.umd.edu

Jenny is a art major / biology major who stops by the store occasionally to fix up TF's poor excuses for icons and images. Not much of her work as of yet is featured.
LIKES : Tropical Fish, Sting, Chameleons
DISLIKES : Chocolate, Soda, Soylent Green
FAVORITE COLOR : Blue. NO! YEllooooooowwwww..... (thud)
THE IMAGINARY STAFF
UKYOU KUONJI
Our official spokeswoman / chef / ombudsman. Listen for her on the PA for any blue light specials! Ripped directly out of Rumiko Takahashi's wonderfully weird romantic comedy martial arts japanese animation series, Ranma 1/2.
LIKES : Cooking, Fighting (simultaneously)
DISLIKES : Crepes
FAVORITE COLOR : Brown
THE DUCK
Spatula City's 3-D rendered rubber duckie mascot. Built out of sturdy SPACE AGE DuraPlastiWare, he resists dirt smudges, children's drool and ground zero nuclear blasts up to 50 megatons! He also makes a cute little squeak! when squeezed.
LIKES : Attractive female squeeze toys, Dog breath
DISLIKES : Bathwater that's been peed in
FAVORITE COLOR : Yellow
---

Back to Spatula City