Click here to learn where everything is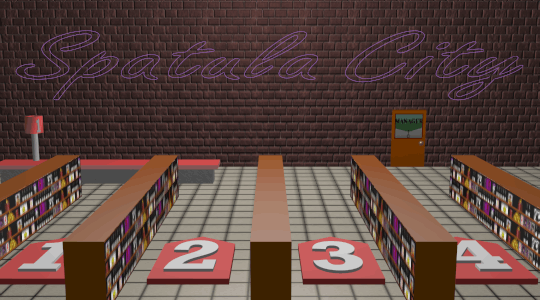 [Manager's Office : Credits]
[Checkout Lanes : Hotlist]
[Aisle 1 : Kitchenware 'n Candybars]
[Aisle 2 : Fiction and Faction]
[Aisle 3 : The Silly Zone]
[Aisle 4 : Black Light Specials]

Where The Heck IS Everything...
AISLE 1 - This is where all the spatulas are kept. Designs for fictionary spatulas which are sent in by the users, or written by the manager.
AISLE 2 - This is where we keep the fiction, prose and stories.
AISLE 3 - This is the Silly Zone, which contains nearly all the fun stuff, like the vacation photos, the games, the puzzles, the gadgets and gizmoes. When in doubt, look in the Silly Zone.
AISLE 4 - Black Light Specials is the downloads section, where you can get Spatula City related binaries and animations.
OFFICE - Credits about who made these pages.
CHECKOUT LANE - Hotlist of links we like to visit.
THAT LEFT ARROW - Turns the viewpoint left, where you'll see the Bargain Bin (our FTP site!).
THAT RIGHT ARROW - Turns the viewpoint right, where you'll see Ucchan's, our restaurant.
---

Back to the Intro Screen